FUEL UP NOW, PAY LATER WITH AFTERPAY
FREE AUS+NZ SHIPPING OVER $90
Price increase on selected products due to cost and supply
Sale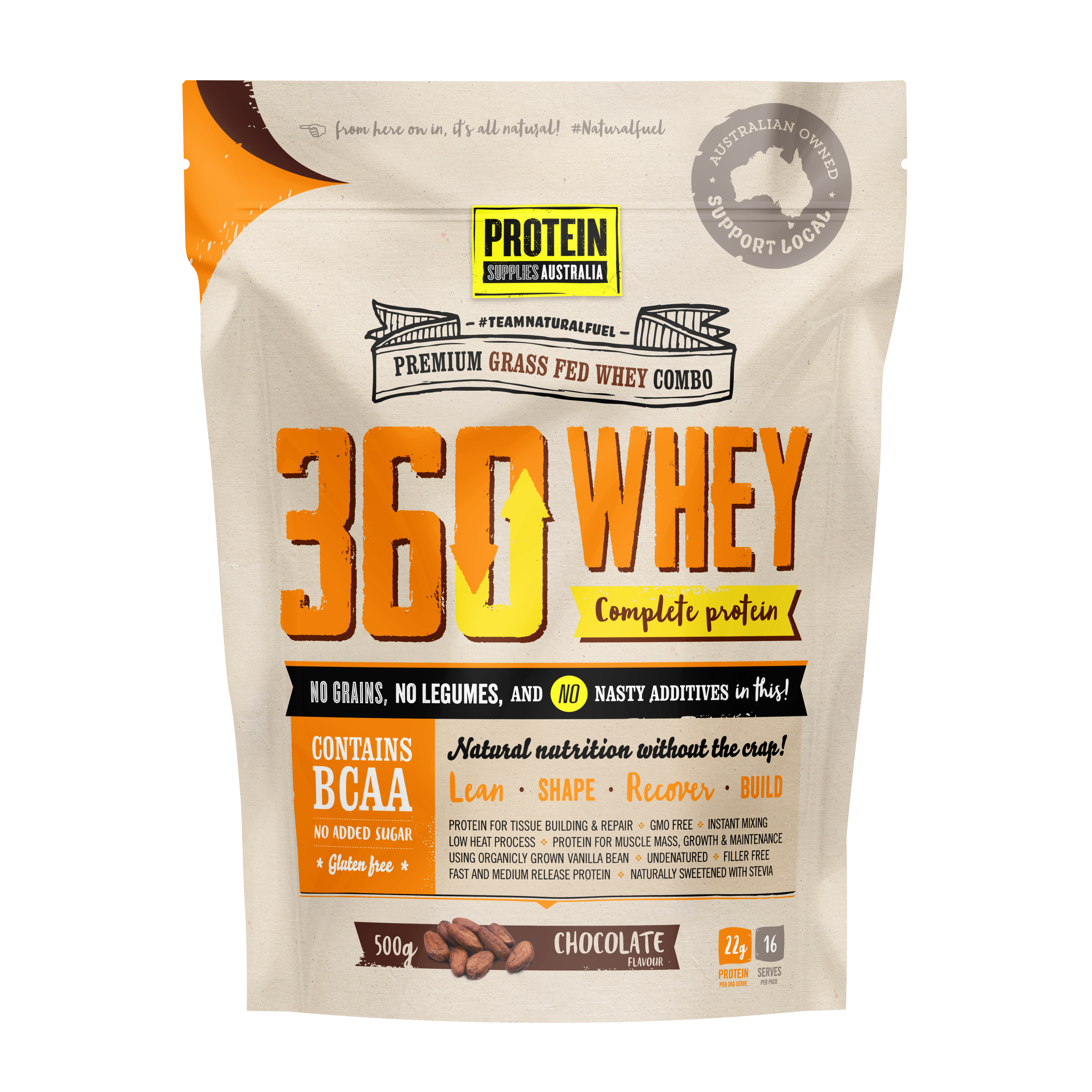 360 Whey Chocolate
Looking for a nutritionally rich, high protein without the fillers? 360 is the answer for you!
The optimal blend of our famous WPI & homegrown WPC, this whey 'all-rounder' is the perfect mix of high protein and nutrients your body needs. Containing low levels of carbohydrates, 360Whey is ideal for sports supplementation, weight control or naturally fueling an active lifestyle.
Our 360Whey is completely natural and has a delicious, aromatic chocolate flavour using certified organic Cacao bean and lightly sweetened with stevia. It's perfect for quick post-workout shakes, smoothies, cooking and baking. Many of our customer's love mixing it in with their porridge or smoothie in the morning to prepare them for the day ahead.
Free from banned hormones, GMOs and unwanted additives this ultra-filtered whey is crafted under a low heat, eliminating the risk of damaging the sensitive proteins (denaturation).
Key Selling Points:
Rich in BCAAs 
No added sugar
Gluten Free
Encourages Lean Muscle Growth
Staggered Release Protein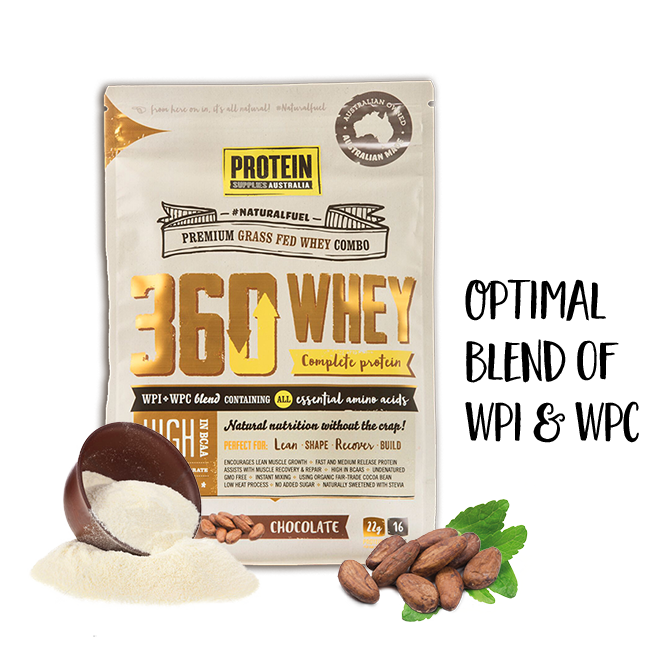 Mix, shake or blend 30g (3 heaped tablespoons) of our 360Whey with 150ml of water, milk or your favourite beverage and enjoy! This 360Whey is perfect for high protein baking or your next smoothie creation! Consume 1-3 servings daily, depending on your daily dietary requirements as advised by a health care professional.
NUTRITION INFORMATION

Servings per package:   33

Serving size:   30g

 

Average Quantity per Serving

Average Quantity per 100g

ENERGY

478kJ (114Cal)

1590kJ (381Cal)

PROTEIN

22.7g

75.8g

FAT, TOTAL

1.1g

3.8g

  - SATURATED

0.6g

2.1g

CARBOHYDRATE

3.1g

10.4g

  - SUGARS

1.5g

5.0g

  - LACTOSE

1.3g

4.2g

  -  GALACTOSE

0g

0g

GLUTEN

0g

0g

DIETARY FIBRE

0.06g

0.21g

SODIUM

56mg

187mg
| | | |
| --- | --- | --- |
| ESSENTIAL AMINO ACIDS | Avg Qty Per 30g Serve | Avg Qty Per 100g  |
| Lysine | 2.05g | 6.82g |
| Methionine | 0.47g | 1.58g |
| Phenylalanine | 0.70g | 2.32g |
| Threonine | 1.67g | 5.55g |
| Tryptophan | 0.31g | 1.05g |
| Isoleucine | 1.47g | 4.92g |
| Leucine | 2.35g | 7.83g |
| Valine | 1.37g | 4.55g |
| Histidine | 0.34g | 1.13g |
| NON-ESSENTIAL AMINO ACIDS | Avg Qty Per 30g Serve | Avg Qty Per 100g  |
| Alanine | 1.24g | 4.12g |
| Arginine | 0.53g | 1.75g |
| Aspartic Acid | 2.48g | 8.26g |
| Cysteine | 0.54g | 1.80g |
| Glycine | 0.43g | 1.43g |
| Glutamic Acid* | 3.72g | 12.41g |
| Proline | 1.38g | 4.60g |
| Serine | 1.11g | 3.71g |
| Tyrosine | 0.60g | 1.99g |
MADE IN AUSTRALIA FROM AT LEAST 50% AUSTRALIAN INGREDIENTS
INGREDIENTS:
Whey Protein Concentrate (Whey Protein Concentrate, Emulsifier (Sunflower Lecithin)), Whey Protein Isolate (Whey Protein Isolate, Emulsifier (Soy Lecithin)), Organic Raw Cacao Powder (4.38%), Natural Flavours, Natural Sweetener (Stevia). 
WHAT IS 360?
360 is a 50/50 split of WPI (Whey Protein Isolate) and WPC (Whey Protein Concentrate).
Every batch is tested for heavy metals & impurities and is Quality Assured. With a high-alkalinity & bioavailability 360 is a pure and perfect protein for smoothies, shakes, cooking or baking as well as your post-workout recovery.
IS 360 SAFE TO USE DURING PREGNANCY?
In short, yes. Due to the cleanliness and purity of this product, and the fact that women undergoing pregnancy require higher quantities of protein than women who are not pregnant, 360 is an excellent source of Natural Protein.
If you do have any questions or inquires, it may be best to consult your health care professional before making any decisions.
WHERE IS 360 SOURCED FROM?
Our WPI is sourced from farms in America & NZ seasonally, with our WPC sourced from local Victorian farms right here in Australia.
The raw materials taken to our Warehouse right here in Brisbane, and manufactured into the 360 you all know and love.
HOW MUCH PROTEIN SHOULD I BE TAKING?
If you are an athlete or highly active person attempting to lose body fat while preserving lean muscle mass, a daily intake of 1.5-2.2g/kg body-weight (0.68-1g/lb bodyweight) is a good goal. 
If you are an athlete or highly active person, or you are attempting to lose body fat while preserving lean mass, then a daily intake of 1.0-1.5g/kg body-weight (0.45-0.68g/lb bodyweight) is a good goal. 
If you are sedentary and not looking to change body composition, a daily target of 0.8g/kg body-weight (0.36g/lb bodyweight) is a good goal.
Mrs
Great service, great communication and the product is excellent
Delicious 360
Was sceptical as some natural proteins dont have enough flavour but choc 360 does not dissapoint!
Excellent
Great consistency and flavour. Happy to know it's not full of any nasties! Will definitely purchase again.
Yummy and Filling
As expected the chocolate 360 is yummy, has a natural taste and fills me up. Haven't tried the honeycomb fast acting protein yet but anticipate deliciousness.
Flavoursome and filling
It's always a struggle trying to guess what a protein flavour tastes like without sampling before purchase. This was the case for me and I was very pleasantly surprised when I first tasted the chocolate flavour. To add to the delight it also felt like I had just had a meal. It really felt filling as well as being flavoursome.