FUEL UP NOW, PAY LATER WITH AFTERPAY
FREE AUS+NZ SHIPPING OVER $90
Price increase on selected products due to cost and supply
Sale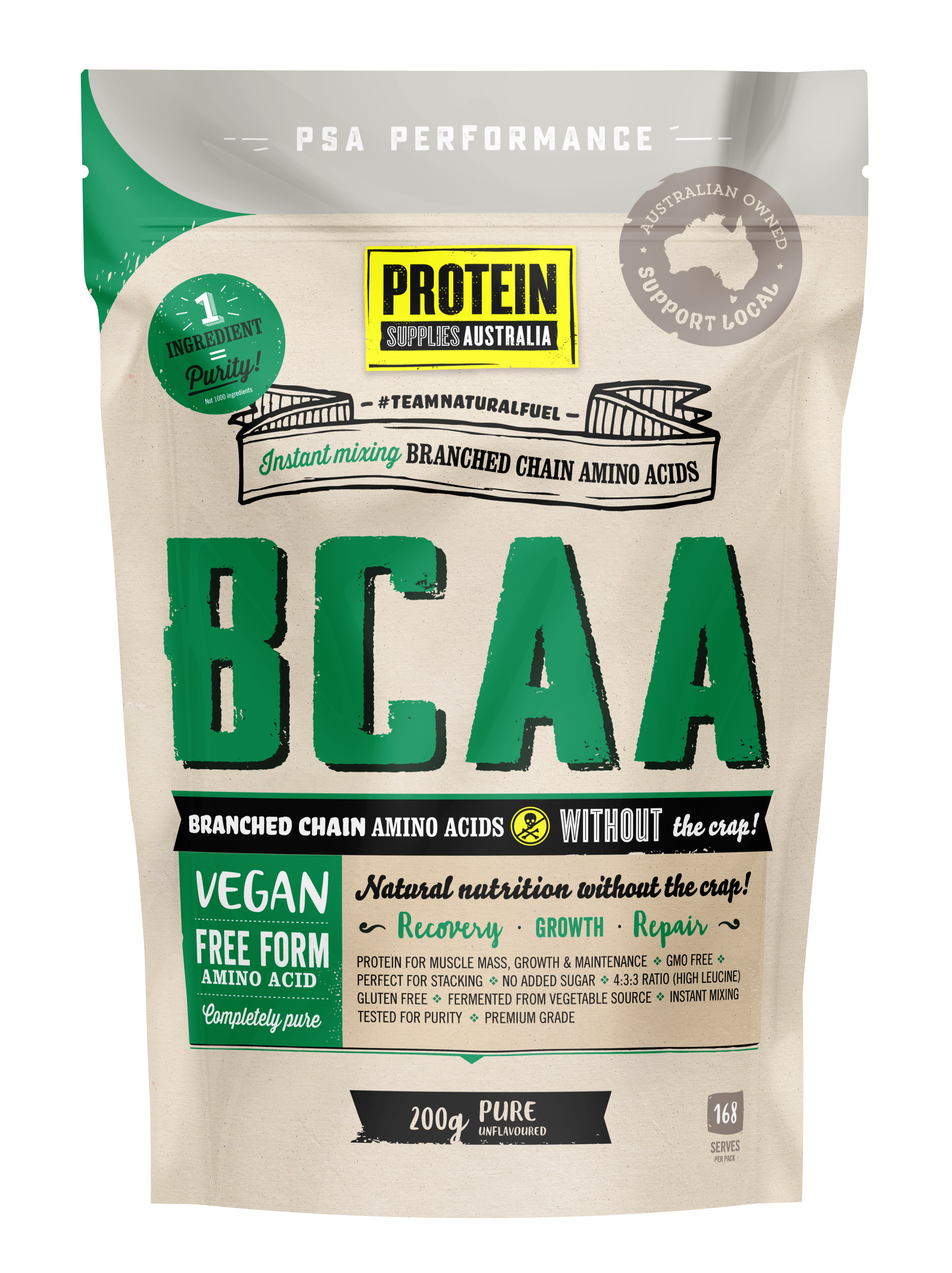 BCAA - Pure
Ready to take your supplementation game to the next level?
Introducing our all-Natural Branch Chain Amino Acids (BCAAs).
Our premium Branched Chain Amino Acids (BCAAs) include 3 of the 9 essential amino acids: leucine, Isoleucine and valine and may assist in muscle repair & promoting muscle growth over time.

These are our PURE BCAA's meaning they contain no flavours or sweetener. Worth noting, due to the purity of our BCAA's they have a strong taste and odour which can be slightly bitter. If you're wanting a concentrated, pure and natural version of BCAA's that can be stacked with everything and dosed to your requirements ... this is the BEST option!
Main Points:
Encourages Lean Muscle Growth
Assists with Muscle Recovery & Repair
2:1:1 Ratio (High Leucine)
Fermented from Vegetable Source
Pure - no unnecessary additives 
Other Points:
GF & DF
GMO-Free
Perfect for Stacking
Vegan Friendly
Instant Mixing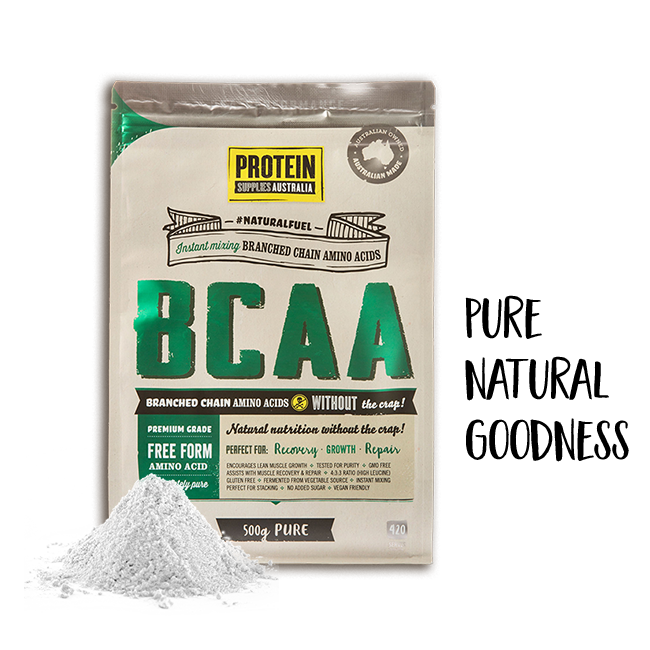 WHAT DOES IT DO?
Countless studies have shown the great effects of BCAA supplementation on muscle growth, repair and development, and if you're reading to take your supplementation game to the next level, BCAAs are a perfect place to start.
WHERE IS IT SOURCED FROM?
Our Plant-Based BCAAs are sourced from NON-GMO Sugar-beets via a natural enzymatic/fermentation process.
2:1:1 RATIO
The reason we use the 4:3:3 ratio is due to a few reasons:
1. To keep in accordance with the Food Standard guidelines we use the 1.19g serving - and to keep 'bang for buck' we use a higher level of BCAA ratio, that way you're getting more out of each serve.

2. The higher ratio of leucine is shown to be beneficial for repair and growth

3. There is different research indicating the various benefits of different ratio levels, but the difference is so marginal that unless you're a serious athlete and running in high catabolic state constantly you would not notice too much of a difference.


INGREDIENTS:
BCAAs 4:3:3 (Leucine, Isoleucine, Valine), Non-GMO Sunflower Lecithin (For easy mixing).
ALLERGEN STATEMENT:
Manufactured on equipment that also produces products containing Milk, Soy, Egg, Tree Nuts, Sesame, Lupin and Peanuts. We maintain a strict Food Quality System which is independently audited and certified by HACCP, SQF and SAFE FOOD. Although we have many processes and procedures (QCP, CCP) in place to prevent cross-contamination occurring at our facility - it is our responsibility as an honest manufacturer to state their may contain traces of the above as it is shared production equipment. (typically less then <10ppm) in which we random batch test to measure our systems.  
NUTRITION INFORMATION

Servings per package:   168 (200g)

Serving size:   1.19g

 

Average Quantity per Serving

Average Quantity per 100g

ENERGY

20kJ (5Cal)

1680kJ (402Cal)

PROTEIN

1.2g

100.0g

FAT, TOTAL

0.0g

0.0g

  - SATURATED

0.0g

0.0g

CARBOHYDRATE

0.0g

0.0g

  - SUGARS

0.0g

0.0g

SODIUM

0mg

0mg
| | | |
| --- | --- | --- |
| BRANCH CHAIN AMINO ACIDS | Avg Qty Per 1.19g Serve | Avg Qty Per 100g  |
| L-Leucine | 0.49g | 41.4g |
| L-Isoleucine | 0.35g | 29.4g |
| L- Valine | 0.35g | 29.4g |
PACKED IN AUSTRALIA FROM IMPORTED INGREDIENTS
FORMULATED SUPPLEMENTARY SPORTS FOOD
This product is not a sole source of nutrition and should be consumed in conjunction with a healthy nutritious diet and appropriate physical training or exercise program.
 NOT SUITABLE FOR CHILDREN UNDER 15 YEARS OF AGE OR PREGNANT WOMEN: SHOULD ONLY BE USED UNDER MEDICAL OR DIETETIC SUPERVISION.


Great clean product
Great product recommended by my dr based on recent blood work. Just BCAAs no fillers, colours or other nasties.
Keep up the good work
I love the no bull honest statement with this product and the fact that you get no fillers
Great service Great product
The NO CRAP line of protein supplements is fantastic and cheaper than other products which contain "stuff" that makes your body work harder to eliminate the crap. Just because it "tastes good" and a "beautiful colour" does not mean it is good for you