FUEL UP NOW, PAY LATER WITH AFTERPAY
FREE AUS+NZ SHIPPING OVER $90
Price increase on selected products due to cost and supply
Sale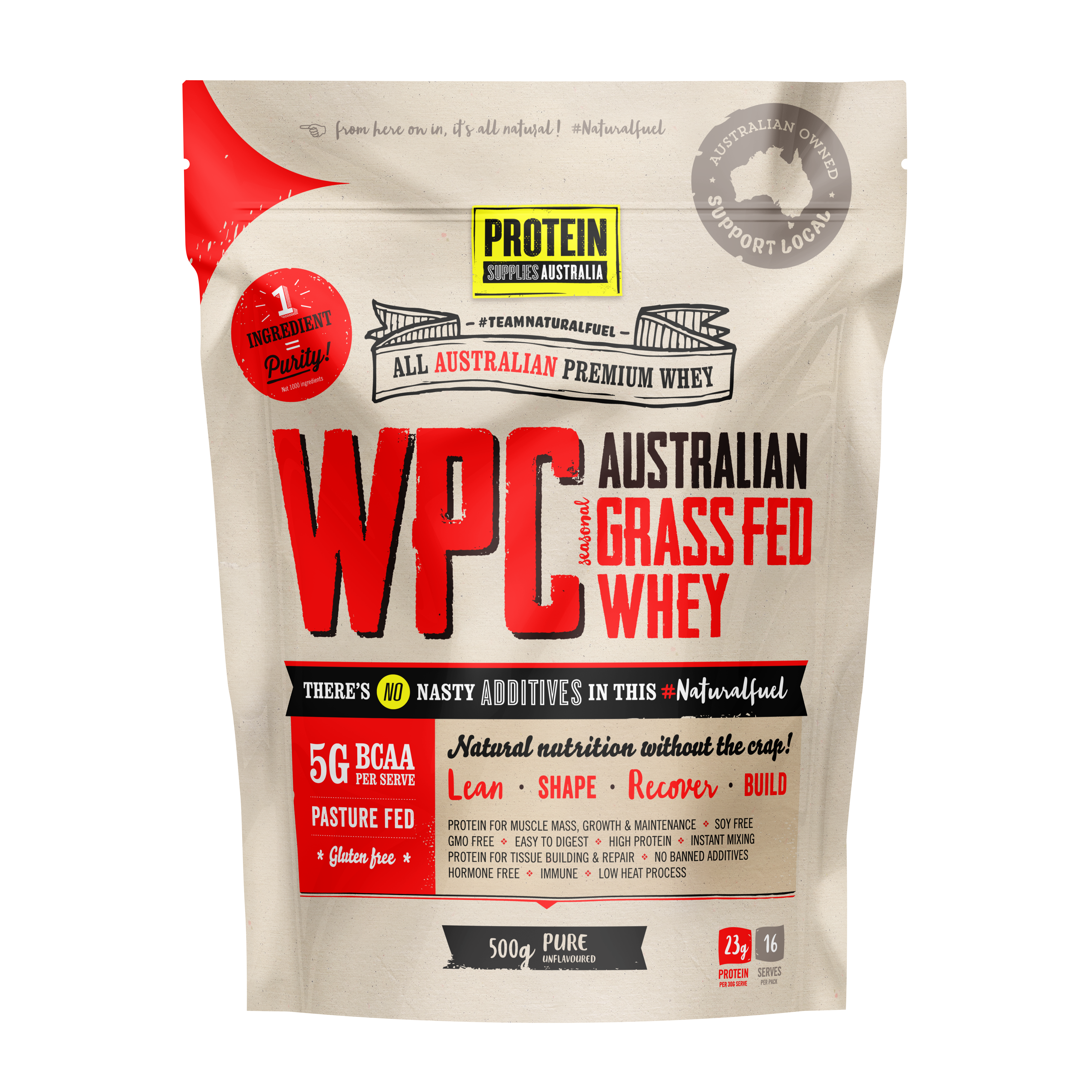 WPC Pure
Seasonal Australian Grass Fed Whey. There's no nasty additives in this #naturalfuel.
This Australian Made, seasonally grass-fed Whey Protein Concentrate is the perfect balance of immune boosting nutrition and high protein content. With only 119 calories per serve and rich in nutrients & amino acids–containing over 5g of the essential BCAAs per serve–our WPC is ideal for anyone wanting a nutritionally superior dietary supplement while also maximising their workout recovery. Low carb, free of banned hormones, soy, GMOs and unwanted additives this ultrafiltered whey is crafted under a low heat, eliminating the risk of damaging the sensitive proteins (denaturation).

As well as being an ideal supplement this homegrown WPC offers a creamy taste, smooth texture and high-protein count making it the perfect addition in the kitchen for everything from pancakes & muffins to smoothies & desserts.
Key Selling Points:
High in BCAA
Low carbohydrate
Gluten free
Other Points:
Encourages Lean Muscle Growth
Instant Mixing
Easy to Digest
Assists With Muscle Recovery & Repair
Rich in BCAAs
High Protein
Soy Free
GMO Free
Hormone Free
Low Heat Process
Naturally Occurring Immune Boosting Qualities
5G of BCAA Per Serve
Pasture Fed Whey Protein Concentrate

Sunflower Lecithin (for easy mixing)
NUTRITIONAL INFORMATION


Serving Size: 30G

 

Average Quantity Per Serving
Average Quantity Per 100G
Energy
499 KJ (119 Cal)
1660 KJ (398 Cal)
Protein
24.5 G
81.7 G
Fat, Total
1.8 G
6.0 G
- Saturated
1.0 G
3.5 G
Carbohydrate
2.5 G
8.6 G
- Sugars
2.5 G
8.6 G
Dietary Fibre
0.0 G
0.0 G
Sodium
51 MG
170 MG
Mix, shake or blend 30g (3 heaped tablespoons) of our WPC with 150ml of water, milk or your favourite beverage and enjoy! This WPC is perfect for high protein baking or your next smoothie creation! Consume 1-3 servings daily, depending on your daily dietary requirements as advised by a health care professional.
Great quality products
Was sold on psa creatine a while back, I could actually feel it working compared to other brand I was using.
Just received my new order of wpc, l-glutamine and colostrum, again quality products and great range with fast postage.
Excellent WPC
My Naturopath recommended I purchase a product, for my husband and I. We are elderly, and it sure helps with energy levels in us both, and no doubt in many other areas too. Will definitely be purchasing in the future . Thank you for a great product, pity there aren't more companies who would take a leaf out of your book, and keep all the 'nasties' out of their products too.
Love this WPC
Great product. I purchase Australian grass fed WPC, vanilla. I'm 67 and use this product to boost my protein intake and I certainly have improved stamina levels to get through the day when I'm using this WPC.
Great wpc
Another great product.
Mixes very well, no odor, has a neutral flavour. I will definitely purchase again in the future
A staple in our house!
I use this most days - I put a few spoonfuls in banana smoothies with milk and yoghurt for my teenage boys who do heaps of sport and 2 of whom are vegetarian. Delish!